Wednesday's Trivia and Stuff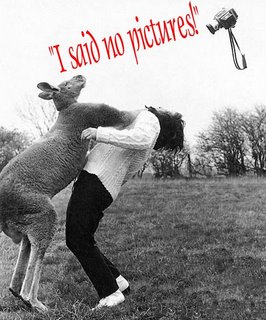 ~~#~~#~~#~~#~~~#~~~#
Two dwarfs go into a bar where they pick up two women & take them to their separate hotel rooms.
The 1st dwarf, however, is unable to get an erection. His depression is made worse by the fact that, from the next room, he hears his little friend shouting out cries of "Here I come again! One, two, three, uh," all night long.

In the morning, the 2nd dwarf asks the 1st "How did it go?"

The 1st mutters "It was so embarrassing. I simply couldn't get an erection."

The 2nd dwarf shook his head & says "You think that's embarrassing? I couldn't even get on the bed."
+*+*+*+*+*+*+*+*+*+
Two brothers enlisting in the Army were getting their physicals.
During the inspection, the doctor was surprised to discover that both of
them possessed incredibly long, oversized penises.
"How do you account for this?" he asked the brothers.
"It's hereditary, sir," the older one replied.
"I see," said the doctor, writing in his file. "Your father's the reason
for your elongated penises?"
"No sir, our mother."
"Your mother? You idiot, women don't have penises!"
"I know, sir," replied the recruit, "but she only had one arm, and when it
came to getting us out of the bathtub, she had to manage as best as she
could."
~~#~~#~~#~~#~~~#~~~#
Homeland Security Bill has passed and things will be different now and Internet
surfing will be tracked by what the FBI calls a "non-intrusive method." The FBI says
you will not notice anything different. For a demonstration, click on the link below..
http://users.chartertn.net/tonytemplin/FBI_eyes
+*+*+*+*+*+*+*+*+
Wednesday's Trivia

1777

At a meetind of the Continental Congress in Philadelphia, Pennsylvania, John Adams declared,"Resolved that the flag of the thirteen United States shall be thirteen stripes, alternate red and white; that the union be thirteen stars, white on a blue field, representing a new constellation." His decision gave birth to the first Flag Day celebration in the United States of America.

Proclamation 1335, May 30, 1916, made it possible for every President to issue a proclamation that June 14 would be celebrated as Flag Day. Pennsylvania is the only state to celebrate June 14 as a legal holiday, proclamation or not, although the proclamation has been issued annually since 1949.

1841

The first Canadian parliament opened in Kingston.

1846

In what became known as the Bear Flag Revolt, California was declared an independent republic. A group of American rebels took over the headquarters of Mexican Governor Mariano Vallejo in Sonoma, California. California's independence ended 25 days later when the US army occupied the city of Monterey, and declared California as part of the US.

1937

Pennsylvania became the first, and still the only, state in the United States to observe Flag Day as a legal holiday.

1951

The world's first commercial computer to receive wide attention, Universal Automatic Computer (UNIVAC I), was unveiled and demonstrated in Philadelphia, Pennsylvania. Designed for the US Bureau of the Census, the massive computer was 8 feet high, 7.5 feet wide, and 14.5 feet long. UNIVAC I was designed under the supervision of J. Presper Eckert and John Mauchly.

1975

With their song "Sister Golden Hair," the group America reached the number one position on the "Billboard" pop music chart with. In 1972, the group had taken "A Horse With No Name" to the top spot. The trio consisting of Dan Peek, Gerry Beckley, and Dewey Bunnell received the Best New Artist Grammy for 1972.

1989

Former U.S. President Ronald Reagan was made an honorary knight by Britain's Queen Elizabeth.

1996

Columbia Pictures released The Cable Guy, starring Jim Carrey, to more than 4,000 screens across the U.S. Carrey was reported to have received $20 million for the film, a salary-record for a film comedian.

Then there was the guy who loved nothing better than to sit at nearby bar for long evenings and get stoned with his cronies. But his wife was a social climber, and was prone to having her "ladies" in for bridge etc.

This one night she didn't want him to be around embarrassing her, so she told him to stay out as late as he wished, just don't come in and make another scene.

Well, he came in the back door a little early, as she was preparing tea and some delicate little sandwiches, and was infuriated at his early return home.

"You keep your mouth shut, and go upstairs to bed" she told him.

"Oh, relax,"says he, "I'll just take a cup of coffee, say good evening to the ladies, and I'll be gone."

"Just keep your mouth shut," says she again.

Well, when she finally went back into the living room, all the ladies were gone, and he sat there alone. She 'flipped' and told him she was going to divorce him and take everything he had, but he said,"wait a minute, you have to hear my side of the story."

"I came in here , sat down, and said good evening to the ladies, and they carried on. One lady said she was having trouble with mice in her house, and another lady suggested she stuff their holes with steel wool, and all I said was, who is going to hold their little legs while you do it?