Sunday Funnies
~~#~~#~~#~~#~~~#~~~#
Back in the nineteen-sixties, one animal rights group was outraged that open season had been declared on the great American Buffalo in order to help thin the herd in and near some of our national parks. They began herding the buffalo (by helicopter) into holding pens. The buffalo would then be loaded onto railroad cars and shipped to places where there were no buffalo. One very smart buffalo named "Gus" decided that the holding pen was not the place for him so he staged a mutiny. Gus and ten of his fellow buffalo decided to make a break for it. They burst the gate of the holding pen and were free at last. Early the next morning, they heard the sound of helicopters so they hid. Deciding it was too dangerous to stay in the park area, they headed south, toward Dallas, Texas. Grazing was not so good, so they came on further south toward Houston. While at the Johnson Space Center, they learned about "Cape Canaveral." The pictures were great ... plenty of water, plenty of grass, and no helicopters. Gus and his friends headed for Florida. They found the "Cape" and grazed to their hearts content each day. As they grazed, a rocket was being readied for launch on a nearby pad. The order came for the area to be evacuated of all living animals. Gus and his friends continued to graze. In order to get them out of the area (for their own safety), NASA sent in helicopters to round up the buffalo. Gus and his friends recognized the sound and began running. They took cover under the rocket. They saw a man walking near the pad, so they climbed the tower and into the top stage of the rocket which was about to go into orbit. Since no one knew where the buffalo were, NASA assumed they were clear of the area and continued the countdown. As the rocket lifted off, Gus and his friends became the "First herd shot around the world."
~~#~~#~~#~~#~~~#~~~#
A blonde went to a helicopter flight school insisting she wanted to learn to fly that day. As all the planes were currently in use, the owner agreed to instruct her on how to pilot the helicopter solo by radio. He took her out, showed her how to start it and gave her the basics, and sent her on her way. After she climbed 1000 feet, she radioed in. "I'm doing great! I love it! The view is so beautiful, and I'm starting to get the hang of this." After 2000 feet, she radioed again, saying how easy it was becoming to fly. The instructor watched her climb over 3000 feet, and was beginning to worry that she hadn't radioed in. A few minutes later, he watched in horror as she crashed about half a mile away. He ran over and pulled her from the wreckage. When he asked what happened, she said: "I don't know! Everything was going fine, but as I got higher, I was starting to get cold. I can't remember anything after I turned off the big fan."
~~#~Quotes By Bush~~~#
A couple of Bushisms I haven't heard before. (He really should have better writers.)
"The vast majority of our imports come from outside the country. " - George W. Bush
"If we don't succeed, we run the risk of failure." - George W. Bush
"One word sums up probably the responsibility of any Governor, and that one word is ' to be prepared '." - George W. Bush
"I have made good judgments in the past. I have made good judgments in the future. " - George W. Bush " The future will be better tomorrow." George W. Bush
" We're going to have the best educated American people in the world." - George W. Bush
" I stand by all the misstatements that I've made." - George W. Bush
"We have a firm commitment to NATO, we are a part of NATO. We have a firm commitment to Europe We are a part of Europe." - George W. Bush
" Public speaking is very easy." - George W. Bush
"A low voter turnout is an indication of fewer people going to the polls." - George W. Bush
"We are ready for any unforeseen event that may or may not occur. " - George W. Bush
"For NASA, space is still a high priority." - George W. Bush
"Quite frankly, teachers are the only profession that teach our children. " - George W. Bush
"It isn't pollution that's harming the environment. It's the impurities in our air and water that are doing it." - George W. Bush
" It's time for the human race to enter the solar system." - George W. Bush
~~#~~#~~#~~#~~~#~~~#
Having lost weight over the past few years, a lady was discarding things from her wardrobe that no longer fit. Her seven-year- old niece was watching as she held up a huge pair of slacks. "Wow," the lady said, "I must have worn these when I was 183." Her niece looked puzzled, then asked, "How old are you now?"
+*+*+*+*+*+*+*+*+*+
An old snake goes to see his Doctor. "Doc, I need something for my eyes, I can't see very well these days." The Doctor fixes him up with a pair of glasses and tells him to return in 2 weeks. The snake comes back in 2 weeks and tells the doctor he's very depressed. The doctor replies, "What's the problem? Didn't the glasses help you?" "The glasses are fine doc, but I just discovered I've been living with a water hose the past 2 years!
~~#~~#~~#~~#~~~#~~~#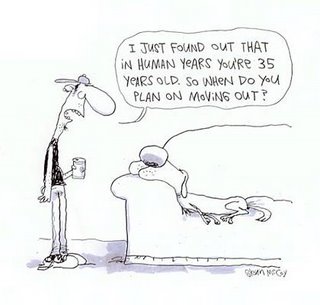 While waiting in line at a busy airport check-in counter, I noticed a set of rambunctious triplet boys in front of me. As the queue inched along, their mother tried in vain to get them to calm down. Finally she reached the counter, where the ticket agent asked her, "Have any of the items you plan to take with you on this flight been out of your immediate control since your arrival at the airport?" The young mother replied honestly, "The luggage, no; the children, yes."
+*+*+*+*+*+*+*+*+*+
Enclosed you will find my 2005 tax return showing that I owe $3,407.00 in taxes. Please note the attached article from the USA Today newspaper, dated 12 November, wherein you will see the Pentagon (Department of Defense) is paying $171.50 per hammer and NASA has paid $600.00 per toilet seat. I am enclosing four (4) toilet seats (valued @ $2,400) and six (6) hammers valued @ $1,029), which I secured at Home Depot, bringing my total remittance to $3,429.00. Please apply the overpayment of $22.00 to the "Presidential Election Fund," as noted on my return. You can do this inexpensively by sending them one (1) 1.5 " Phillips Head screw (see aforementioned article from USA Today newspaper detailing how H.U.D. pays $22.00 each for 1.5" Phillips Head Screws). One screw is enclosed for your convenience. It has been a pleasure to pay my tax bill this year, and I look forward to paying it again next year.
Sincerely,
A Satisfied Taxpayer
~~#~~#~~#~~#~~~#~~~#
A little boy was attending his first wedding. After the service, his cousin asked him, "How many women can a man marry?" "Sixteen," the boy responded. His cousin was amazed that he had an answer so quickly. "How do you know that?" "Easy," the little boy said. "All you have to do is add it up, like the Pastor said: 4 better, 4 worse, 4 richer, 4 poorer."
+*+*+*+*+*+*+*+*+*+
After a church service on Sunday morning, a young boy suddenly announced to his mother, "Mom, I've decided to become a minister when I grow up." "That's okay with us, but what made you decide that?" "Well," said the little boy, "I have to go to church on Sunday anyway, and I figure it will be more fun to stand and yell, than to sit and listen."
~~#~~#~~#~~#~~~#~~~#
A 6-year-old was overheard reciting the Lord's Prayer at a church service: "And forgive us our trash passes, as we forgive those who passed trash against us."
+*+*+*+*+*+*+*+*+*+
A boy was watching his father, a pastor, write a sermon. "How do you know what to say?" he asked. "Why, God tells me." "Oh, then why do you keep crossing things out?"
~~#~~#~~#~~#~~~#~~~#
A little girl became restless as the preacher's sermon dragged on and on. Finally, she leaned over to her mother and whispered, "Mommy, if we give him the money now, will he let us go?"
+*+*+*+*+*+*+*+*+*+
After the christening of his baby brother in church, little Johnny sobbed all the way home in the back seat of the car. His father asked him three times what was wrong. Finally, the boy replied, "That preacher said he wanted us brought up in a Christian home, and I want to stay with you guys!"
~~#~~#~~#~~#~~~#~~~#
Terri asked her Sunday School class to draw pictures of their favorite Bible stories. She was puzzled by Kyle's picture, which showed four people on an airplane, so she asked him which story it was meant to represent. The Flight to Egypt, was his reply. Pointing at each figure! , Ms. Terri said, "That must be Mary, Joseph, and Baby Jesus, But who is the fourth person? "Oh, that's Pontius-the-pilot."
+*+*+*+*+*+*+*+*+*+
The Sunday School Teacher asks, "Now, Johnny, tell me frankly do you say prayers before eating?" "No sir," little Johnny replies, "I don't have to. My Mom is a good cook."
~~#~~#~~#~~#~~~#~~~#
A college drama group presented a play in which one character would stand on a trap door and announce, "I descend into hell!" A stagehand below would then pull a rope, the trapdoor would spring, and the actor would drop from view. The play was well received. When the actor playing the part became ill, another actor who was quite overweight took his place. When the new actor announced, "I descend into hell!" the stagehand pulled the rope, and the actor began his plunge, but became hopelessly stuck. No amount of tugging on the rope could make him descend. One student in the balcony jumped up and yelled: "Hallelujah! Hell is full!"
+*+*+*+*+*+*+*+*+*+
Pastor Dave Charlton tells us, "After a worship service at First Baptist Church in Newcastle, Kentucky, a mother with a fidgety seven-year old boy told me how she finally got her son to sit still and be quiet. About halfway through the sermon, she leaned over and whispered, 'If you don't be quiet, Pastor Charlton is going to lose his place and will have to start his sermon all over again!' It worked."
~~#~~#~~#~~#~~~#~~~#
A little girl was sitting on her grandfather's lap as he read her a bedtime story. From time to time, she would take her eyes off the book and reach up to touch his wrinkled cheek. She was alternately stroking her own cheek, then his again. Finally she spoke up, "Grandpa, did God make you?" "Yes, sweetheart," he answered, "God made me a long time ago." "Oh," she paused, "grandpa, did God make me too?" "Yes, indeed, honey," he said, "God made you just a little while ago." Feeling their respective faces again, she observed, "God's getting better, isn't he?"
+*+*+*+*+*+*+*+*+*+
This teacher went into her classroom about fifteen minutes before the class was supposed to begin and caught a bunch of boys in a huddle on their knees in the corner of the room. She demanded of them what they were doing, and one of them hollered back, "We're shooting craps." She says, "Oh! Well, that's all right. I was afraid you were praying."
~~#~~#~~#~~#~~~#~~~#
An old rabbi is talking with one of his friends and says with a warm smile, "I gladdened seven hearts today." "Seven hearts?" asks the friend. "How did you do that?" The rabbi strokes his beard and replies, "I performed three marriages." The friend looks at him quizzically. "Seven?" he asks. "I could understand six, but..." "What do you think," says the rabbi, "that I do this for free?"
+*+*+*+*+*+*+*+*+*+
I was bringing in a C-5 on GCA one bad night and several times warned the pilot immediate traffic on his six, (behind him) at the same altitude and speed while trying to contact the other aircraft, just knowing that there is going to be a mid-air crash on my watch. Many possible scenarios passed through my mind as to why the second aircraft was following my instructions so perfectly, while trying to get the two separated to a safe distance. My supervisor, hearing that I am having a problem has just plugged into my radio when the pilot of the 5A comes back with, " Control, with all due respect, I think the second aircraft is my tail." As my supervisor broke out laughing, I realized that I had boo-booed, but didn't know how, just that it was very embarrassing. I was astounded when the next day, I was shown a C-5A on the parking ramp and found out just how "Big" that sucker is.
~~#~~#~~#~~#~~~#~~~#
TO: The Honorable Secretary of Agriculture, Washington, D.C.
Dear Sir,
My friend, Ed Peterson, over at Wells, Iowa, received a check for $10,000 from the government for not raising hogs. So, I want to go into the "not raising hogs" business next year. What I want to know is, in your opinion, what is the best kind of farm not to raise hogs on, and what is the best breed of hogs not to raise? I want to be sure that I approach this endeavor in keeping with all governmental policies. I would prefer not to raise razorbacks, but if that is not a good breed not to raise, then I will just as gladly not raise Yorkshires or Durocs. As I see it, the hardest part of this program will be in keeping an accurate inventory of how many hogs I haven't raised. My friend, Peterson, is very joyful about the future of the business. He has been raising hogs for twenty years or so, and the best he ever made on them was $1,422 in 1968, until this year when he got your check for $10,000 for not raising hogs. If I get $1,000 for not raising 50 hogs, will I get $2,000 for not raising 100 hogs? I plan to operate on a small scale at first, holding myself down to about 4,000 hogs not raised, which will mean about $80,000 the first year. Then I can afford an airplane. Now another thing these hogs I will not raise will not eat 100,000 bushels of corn. I understand that you also pay farmers for not raising corn and wheat. Will I qualify for payments for not raising wheat and corn not to feed the 4,000 hogs I am not going to raise? Also, I am considering the "not milking cows" business, so send me any information you have on that, too. In view of these circumstances, you understand that I will be totally unemployed and plan to file for unemployment and food stamps. Be assured you will have my vote in the coming election.
Patriotically Yours,
A soon to be Gentleman Farmer
P.S. Would you please notify me when you plan to distribute more free cheese?
+*+*+*+*+*+*+*+*+*+